Seeing some of the world's most famous sights certainly tops everyone's list when traveling in Italy. But taking part in an activity or trying something new, especially something you can share with locals, adds a special dimension to a trip.
These experiences can be as active as a day's skiing in the Dolomites or as leisurely as a moonlight ride in a Venetian gondola. So between visiting the tourist attractions in Italy, get active! Hike a trail, take a lesson, hop on a boat, and join the locals for some memorable travel experiences. Plan your trip with our list of the top things to do in Italy.
1. Hike the Cinque Terre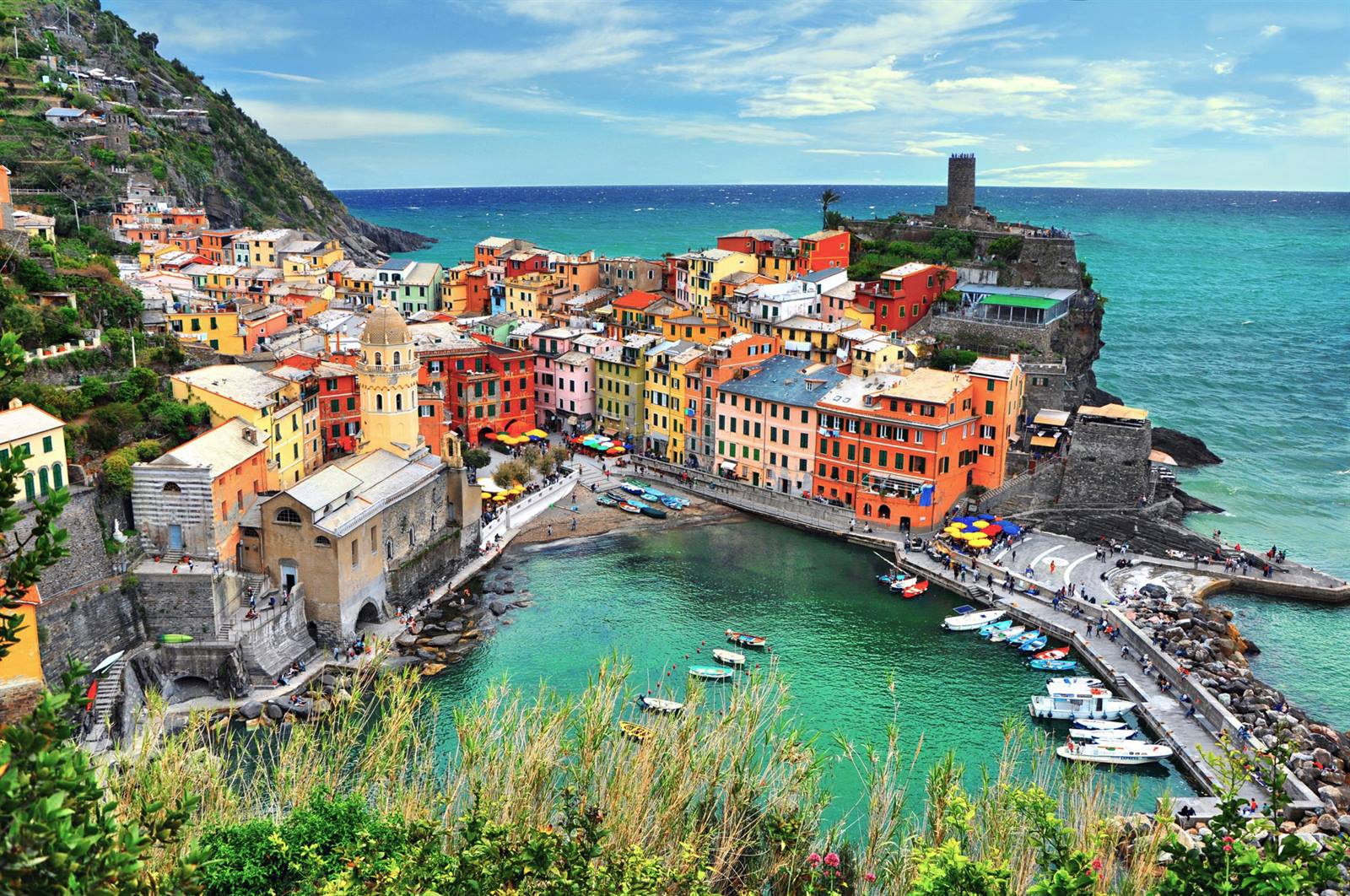 For spectacular views, picturesque villages, wild open landscapes and local experiences, it's hard to beat the five towns of Italy's Cinque Terre and the cliff path that connects them. The 12-kilometer Sentiero Azzurro stretches from Monterosso to Riomaggiore, but it's conveniently broken into segments that you can hike from one town to the next, returning or moving on by train.
Hiking the entire route requires stamina, good boots, and a head for heights, as it is carved in places into nearly vertical cliffs above the sea, with no railings. To experience the Cinque Terre without boots or vertigo, choose the shortest and most popular segment, the two-kilometer Via dell'Amore, between Riomaggiore and Manarola.
Also fairly easy, and less crowded, the section from Manarola to Corniglia is the same distance but takes a little longer to hike. Twice as long, the trail between Corniglia and Vernazza reaches the route's highest point after a stiff climb on often-uneven stone steps, but also includes walks through olive groves and some knock-out views.
Longer, rough, and the most vertigo-inspiring is the often narrow trail between Vernazza and Monterosso. You'll be rewarded with the best views, including a panorama of all five towns, and you'll be sharing the trail with only a hardy few.
Spring and fall are the best times to avoid both crowds and the blazing summer sun (there's little shade along the trails); if you hike in summer, try to get an early morning start. Stop in a park office at rail stations for maps, updates on trail conditions (they are subject to frequent washouts), and to buy a trail pass.
2. Glide Through Venice in a Gondola
It may be Venice's number one cliché, but drifting along a canal in the graceful curve of a gondola is one of the top things to do in Italy. Finding a gondolier is easy. They gather along the Grand Canal by the Doge's Palace and at Rialto Bridge, and you'll see them in their striped shirts and straw hats on bridges and canals as you explore the city. As he (or occasionally she) will be your guide, converse a bit to see if you're comfortable with their style and command of English.
Prices are set, so be sure you're getting the standard rate (pay at the end, with a tip if you're happy), and agree on a route and length of ride before you board.
The choice of route and time of day depend on your personal preferences and on where your ride begins. After dark, lights from the Grand Canal palaces and canal-side restaurants reflect and glimmer on the water, but the Grand Canal is busy with other boats, so it's a less intimate experience.
The smaller canals of Cannaregio and other areas are quieter, and a circle route will probably include parts of the Grand Canal. But at night these are less picturesque, so they are a good choice for a daylight ride. When dusk descends and the lights come on may be the most romantic time of all, as the Venetian day slides into evening.
Probably the least romantic experience begins at the big gondola "parking lot" by the Doge's palace, as rides there begin with a stretch in the widest and busiest part of the Grand Canal. One piece of advice: put away the camera and phone, and make memories instead of pictures.
3. Tour Tuscan Hill Towns by Bicycle or Car
Tuscany's hilly countryside is best enjoyed at leisure, stopping to explore tiny settlements between the tourist attractions of the larger medieval towns that crown the hilltops. While a driving tour can cover more of these towns, a bicycle gets you closer to the land and gives you time to notice more details.
A network of little-traveled and unpaved roads and lanes called Strade Bianche (white roads) wind through the orchards and fields of poppies that cover the hills south and east of San Gimignano, perfect for cycling.
Several tour operators offer guided and independent cycling tours for all experience and endurance levels that include lodging, dining, and luggage transfers, as well as arranged visits at local attractions. For a customized experience you can sign up for a Private Tuscany Cycling Tour and set your own speed. Drivers may at first be frustrated trying to map a direct route between the star towns such as San Gimignano, Volterra, Montalcino, Cortona, and Montepulciano, but remember that these winding little roads between them are as much the destination as the popular hill towns themselves.
From San Gimignano, for example, SP 1 winds south to SP 36 and picturesque Colle di Val d'Elsa. From here, SP5 continues to Monteriggioni. The distances are not all that great, but in your haste to reach the next landmark town, don't underestimate-or ignore-the many distractions along the way. These villages, ruins, farms, and countryside restaurants will often be the most memorable highlights of your trip.
4. Make Perfect Pasta in Florence
Anyone who loves to cook will relish the chance to learn how to make Italy's most famous culinary specialty: perfect pasta. Pasta and other cooking classes are offered throughout Italy, but Florence has a number of them, often combined with a tour of food markets and shops in the company of a food-wise local.
Some are taught in a local family home, where groups of no more than six cook a full meal and enjoy it together. Others are courses that teach a range of classic Florentine dishes. Pasta is at the heart of all these, and you will return home knowing the secrets of perfect pasta, how to make it, and how to cook it.
There are many variations on the theme. One offers transportation from Florence to a traditional Tuscan farm in the hills of Chianti for a customized cooking experience that can include gluten-free, organic, or vegetarian Italian cooking.
For an easy introduction, try a three-hour Homemade Italian Pasta Cooking Course, located right in Florence. All the courses include hands-on experience with an accomplished chef or cook. Other cooking classes are designed especially for families with younger children, who learn how to make pizza and gelato.
A good choice for families staying in Florence are the well-appointed family suites at the Grand Hotel Minerva, opposite Santa Maria Novella and convenient to the train station. Its rooftop pool is especially appealing.
5. See an Opera in Verona's Roman Arena
You don't need to be an opera lover, or even like music, to be enthralled by the spectacle of a full-scale production in Verona's third-century Roman arena. And for those who do love opera, it's a thrill of a lifetime, right up there with opening night at La Scala. The arena itself is one of the largest and best preserved Roman amphitheaters, with all its vaulting and full 44 rows of seating intact to accommodate 22,000 opera-goers. The Verona Opera Festival, held every year in July and August, is one of Europe's most important summer music events, ranked with the Salzburg and Bayreuth festivals.
The combination of the darkened arena, the massive stage sets that are able to recreate entire street scenes and multi-storied buildings at the same time, and some of the world's leading singers and musicians all under a starlit sky is pure magic.
The real blockbuster is Aida, when Radamès has been known to float down a recreated Nile in a boat, and the Triumphal March takes up the entire stage with scenes that in past productions have included live elephants, horses, and camels. Each new production of this biennial favorite brings new surprises. For all its vastness, the arena is surprisingly intimate in its ability to bring the audience into the musical and theatrical moment.
You can hear the music even on nights you're not attending a performance, from the rooftop terrace of the Hotel Milano, overlooking the arena.